We have just added a picture of a newly found historic map of the counties of Tennessee and Kentucky – how fun! This 1872 period map captures the essence and historic leaning of our region – we are not just the Tennessee and Kentucky regional Real Estate Franchises, bound by a vision to serve our neighbors; we are your neighbors – when you work with one of our Real Estate Experts; you work with all us – and this is why our Sales Strategies are focused on Listings; they focus on our neighbors and their property values.
What a fun map!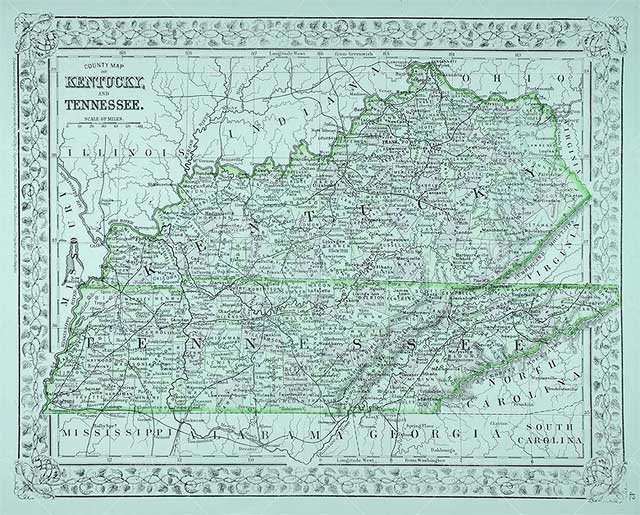 Tennessee Counties: Bedford Co, Benton Co, Cannon Co, Cheatham Co, Coffee Co, Davidson Co, DeKalb Co, Dickson Co, Franklin Co, Gilles Co, Grundy Co, Hamilton Co, Hickman Co, Houston Co, Humphreys Co, Jefferson Co, Lawrence Co, Macon Co, Marshall Co, Maury Co, Montgomery Co, Perry Co, Rhea Co, Roane Co, Robertson Co, Rutherford Co, Sevier Co, Sumner Co, Stewart Co, Unicoi Co, Van Buren Co, Warren Co, Williamson Co, Wilson Co.
Kentucky Counties: Anderson Co, Boone Co, Campbell Co, Carroll Co, Clark Co, Fayette Co, Franklin Co, Gallatin Co, Kenton Co, Mercer Co, Nelson Co, Pendleton Co, Pulaski Co, Rowan Co, Scott Co.