Tennessee Counties: Bedford Co, Benton Co, Cannon Co, Cheatham Co, Coffee Co, Davidson Co, DeKalb Co, Dickson Co, Franklin Co, Gilles Co, Grundy Co, Hamilton Co, Hickman Co, Houston Co, Humphreys Co, Jefferson Co, Lawrence Co, Macon Co, Marshall Co, Maury Co, Montgomery Co, Perry Co, Rhea Co, Roane Co, Robertson Co, Rutherford Co, Sevier Co, Sumner Co, Stewart Co, Unicoi Co, Van Buren Co, Warren Co, Williamson Co, Wilson Co.
Kentucky Counties: Anderson Co, Boone Co, Campbell Co, Carroll Co, Clark Co, Fayette Co, Franklin Co, Gallatin Co, Kenton Co, Mercer Co, Nelson Co, Pendleton Co, Pulaski Co, Rowan Co, Scott Co.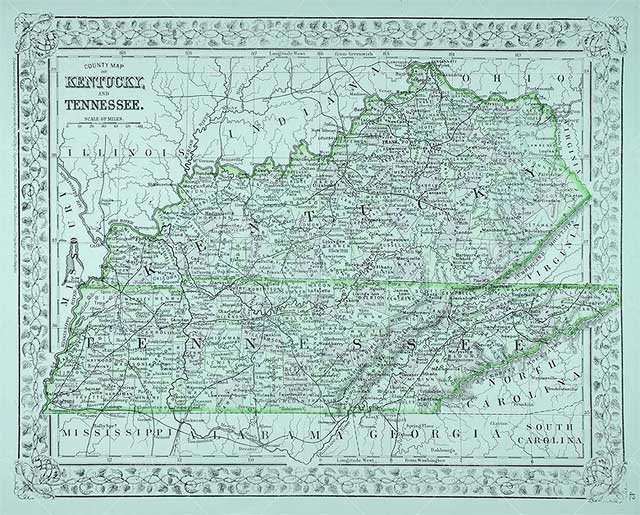 ---
Tennessee is divided into 95 counties. A county is a local level of government smaller than a state and typically larger than a city or town, in a U.S. state or territory.
As of 2000, Shelby County was both Tennessee's most populous county, with 897,472 residents, and the largest county in area, covering an area of 755 sq mi (1,955 km2). The least populous county was Pickett County (4,945) and the smallest in area was Trousdale County, covering 114 sq mi (295 km2). As of the same year, Davidson County, in which the capital Nashville is located, covers 502 sq mi (1,300 km2) with a population of 569,891. The population of the state of Tennessee as of the 2000 census was 5,689,283 in an area of 42,169 sq mi (109,217 km2). The oldest county is Washington County, founded in 1777. The most recently formed county is Chester County (1879).
According to the 2000 census, the center of population for Tennessee was located at 35.795862°N 86.397772°W, 2.5 mi (4.0 km) south of Murfreesboro in Rutherford County. The center of population pinpoints the location at which the population of the state, as placed on a map of the state where they reside, would balance out the map. The geographic center, the point where the map of Tennessee would balance without the population, is located 5 mi (8 km) northeast of Murfreesboro. In 1976, the Rutherford County Historical Society marked the geographic center of Tennessee with an obelisk.
---
Kentucky is divided into 120 counties. Despite ranking 37th in size by area, Kentucky has 120 counties; depending on definitions, this is either third or fourth among U.S. states. Texas has 254 counties and Georgia 159; Virginia has only 95 counties, but also has 39 independent cities that are not part of any county and deal directly with the state government, giving that state 134 county-level administrative units. The original motivation for having so many counties was to ensure that residents in the days of poor roads and horseback travel could make a round trip from their home to the county seat and back in a single day, as well as being able to travel from one county seat to the next in the same fashion. Later, however, politics began to play a part, with citizens who disagreed with the present county government simply petitioning the state to create a new county. The 1891 Kentucky Constitution placed stricter limits on county creation, stipulating that a new county:
must have a land area of at least 400 square miles (1,000 km2);
must have a population of at least 12,000 people;
must not by its creation reduce the land area of an existing county to less than 400 square miles (1,000 km2);
must not by its creation reduce the population of an existing county to fewer than 12,000 people;
must not create a county boundary line that passes within 10 miles (16 km) of an existing county seat.
These regulations have reined in the proliferation of counties in Kentucky. Since the 1891 Constitution, only McCreary County has been created.
Because today's largest county by area, Pike County, is 788 square miles (2,041 km2), it is now impossible to create a new county from a single existing county under the current constitution. Any county to be created in this manner will necessarily reduce the land area of the old county to less than 400 square miles (1,000 km2). It is still possible to form a new county from portions of more than one existing county (McCreary County was formed in this manner).
The largest city in Kentucky, Louisville is a "consolidated local government" under KRS 67C. The second largest, Lexington, is an "urban-county government" under KRS 67A. Lexington and Fayette County are completely merged and there are no separate incorporated cities within the county. When the Louisville Metro government was formed, all incorporated cities in Jefferson County, apart from Louisville, retained their status as cities; however, the Louisville Metro Council is the main government for the entire county, and is elected by residents in all of Jefferson County.
The Federal Information Processing Standard (FIPS) code, which is used by the United States government to uniquely identify counties, is provided with each entry, for Kentucky the codes start with 21 and are completed with the three digit county code. The FIPS code for each county links to census data for that county.
Adair, Allen, Ballard, Barren, Breckinridge, Butler, Caldwell, Calloway, Carlisle, Christian, Clinton, Crittenden, Cumberland, Daviess, Edmonson, Fulton, Graves, Grayson, Green, Hansock, Hart, Henderson, Hickman, Hopkins, Livingston, Logan, Lyon, Marshall, McCracken, McLean, Metcalfe, Monroe, Muhlenberg, Ohio, Russell, Simpson, Todd, Trigg, Union, Warren and Webster counties are all in the Central Time Zone.
---
Featured Listings by Cities:
Tennessee: Adams, Alamo, Antioch, Ashland City, Atwood, Bean Station, Beechgrove, Bell Buckle, Bells, Belvidere, Bethpage, Big Rock, Bon Aqua, Bradyville, Brentwood, Bulls Gap, Camden, Cane Ridge, Castalian Springs, Cedar Hill, Chapel Hill, Chapmansboro, Charlotte, Chattanooga, Christiana, Clarksville, Clinton, Coalmont, College Grove, Columbia, Cottontown, Cross Plains, Culleoka, Cumberland Furnace, Dandridge, Dayton, Dickson, Dover, Eagleville, Erin, Erwin, Ethridge, Fairview, Franklin, Friendship, Friendsville, Gadsden, Gallatin, Goodlettsville, Greenbrier, Greeneville, Harrison, Hendersonville, Hermitage, Hillsboro, Hixson, Humboldt, Huntingdon, Huron, Hurricane Mills, Jackson, Jefferson City, Joelton, Johnson City, Jonesborough, Kingston, Kingston Springs, Knoxville, Kodak, Lafayette, Lascassas, Lavergne, Lebanon, Lenoir City, Liberty, Linden, Lobelville, Loudon, Madison, Manchester, Mascot, Maynardville, McEwen, McMinnville, Medina, Milan, Milton, Mohawk, Mooresburg, Morrison, Morristown, Mosheim, Mount Juliet, Murfreesboro, Nashville, New Johnsonville, New Market, New Tazewell, Nolensville, Normandy, Nunnelly, Old Hickory, Oliver Springs, Orlinda, Palmer, Pelham, Philadelphia, Pinson, Pleasant View, Portland, Pulaski, Readyville, Rockvale, Rockwood, Rogersville, Russellville, Rutledge, Santa Fe, Sevierville, Seymour, Sharps Chapel, Shelbyville, Smithville, Smyrna, Soddy Daisy, Sparta, Spencer, Spring Hill, Springfield, Stewart, Strawberry Plains, Sweetwater, Talbott, Tazewell, Tennessee Ridge, Thompsons Station, Thorn Hill, Trenton, Tullahoma, Unionville, Wartburg, Wartrace, Washburn, Waverly, Westmoreland, White House, White Pine, Whites Creek, Whitesburg, Winchester, Woodbury, Woodlawn.
Kentucky: Alexandria, Bardstown, Bellevue, Bloomfield, Brooks, Burlington, Cadiz, Carrollton, Clarkson, Corinth, Covington, Crittenden, Eddyville, Elsmere, Erlanger, Falmouth, Florence, Fort Thomas, Frankfort, Georgetown, Glencoe, Harrodsburg, Hebron, Hodgenville, Independence, Lawrenceburg, Lexington, Louisville, Morehead, Mt Sterling, Mt Washington, Munfordville, New Haven, Newport, Oak Grove, Pewee Valley, Salvisa, Science Hill, Shepherdsville, Southgate, Springfield, Taylorsville, Verona, Vine Grove, Walton, Warsaw, Willisburg, Winchester.